02 Jul 2021 - Crypto-assets - France - Industry Issues
Adan organises the Crypto Finance Forum to bring together the crypto industry, public authorities and institutions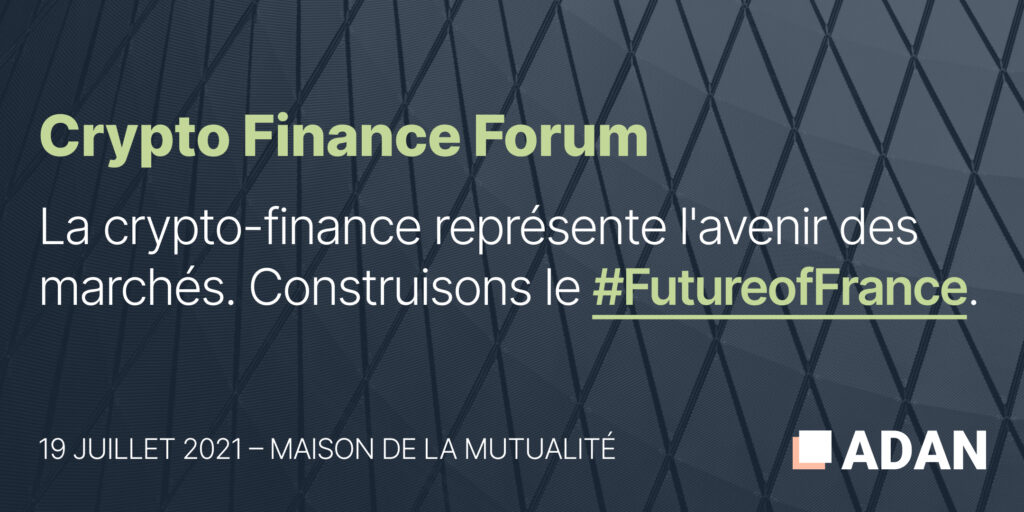 Adan is proud to announce the first edition of its annual conference. Crypto Finance Forum will bring together crypto industry players, policy makers and authorities. It will highlight the innovation and growth potential driven by the digital assets and cryptofinance sector. More than 200 people are expected to attend this conference which will take place on 19 July 2021 at the Maison de la Mutualité in Paris.
Over a full day, renowned speakers will share their expertise and discuss the development of the digital asset industry, the specificities of this new asset class, the market opportunities, the future innovations of digital finance and the needs of this industry to develop them. More than 30 speakers are expected, including Claire Balva (KPMG France), Jérôme Bascher (Senator), Carole Delorme d'Armaillé (OCBF), Pascal Gauthier (Ledger), Pierre Person (MP of Paris) and Ambre Soubiran (Kaiko), among others. The programme, the complete list of speakers and the reservation of seats are available on cryptofinanceforum.fr.
What trends, uses and opportunities do crypto-assets present for institutions? The ambitions, challenges and imperatives to establish France as a leading territory in crypto-finance will be highlighted.
This conference is part of the EthCC Week, from 19 to 25 July, with the most important international and French experts in the field. For one week, thousands of entrepreneurs, engineers and crypto investors will be in Paris to attend the Ethereum Community Conference (EthCC), organised by the association Ethereum France. Recognised as one of the largest Ethereum conferences in Europe, EthCC is entering its 4th edition and attracts participants from all over the world.
Adan would like to thank its partners for their confidence in this first edition of the Crypto Finance Forum, Leger, ParaSwap, Coinhouse, iExec, Kaiko, KPMG and Scorechain.
Complementary Publications