08 Dec 2020 - Crypto-assets - DASP - Europe
December Update
And thus begins the last month of Adan's first year in existence. A very rich and fertile year but also, in many ways, a unique one. We will, of course, share an exhaustive year-end summary in January.
To this end, this week, we will be launching an important survey targeting crypto-blockchain companies. The results will enable us to take stock of our nascent industry and propose recommendations to authorities in an annual report to be presented at the beginning of 2021. The survey will be sent in a separate email later this week – thank you in advance for taking part!
In November, we took part in numerous working groups on future European regulations (notably with Paris EUROPLACE) and spoke at numerous events (France Payments Forum, Yellaw webconference, Atka…).We are also putting the finishing touches to our new website, which will launch shortly, and welcomed six new members to the association, BitSA, Blockchain EZ, Blockpulse, Flowdesk, Request Network, Spot – welcome to them!
In December, we are planning two important events.
First, the conference "BUIDL in France – Understanding the French Crypto Framework" tomorrow at 6 pm CET (17:00 UTC) where we will present the French Crypto Framework, in English, to interested companies, with distinguished guests: Valéria Faure-Muntian – MP, Pierre Person – MP, Laurent Camus – French Prudential Supervision and Resolution Authority, Timothée Huré – French Treasury, Florian Glatz – Bundesblock and Marina Markezic – Blockchain Think Tank Slovenia. We hope to see many of you there – do not hesitate to invite your contacts!
Secondly, the launch of an initiative with a European scope, called "EU Crypto Initiative", which brings together Adan, Bundesblock and Blockchain Think Tank Slovenia. This informal initiative, set up in the context of the MiCA regulation project and pilot regime, aims to bring the industry's views to the European level through events, meetings, exchanges and the production of background documents. If you wish to join this initiative, please contact us.
We wish you all an excellent holiday season!
Simon Polrot
---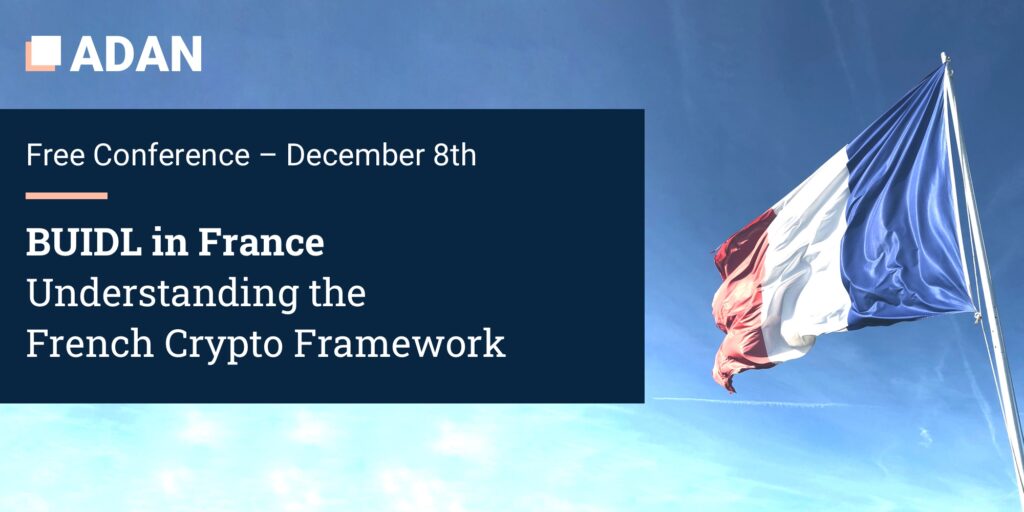 Adan is holding a free virtual conference on Tuesday, December 8th, to present the French crypto regime: from the support measures available to Fintechs, to the new and innovative regulatory regime for VASPs. The aim is to provide a useful and comprehensive overview, especially for foreign players. The event will take place entirely in English.
Agenda
6:00 pm – Introduction Mrs. Valéria Faure-Muntian – MP
6:10 pm – General presentation of the French crypto framework – Adan
6:30 pm – Round table on the French crypto environment – Laurent Camus – ACPR, Timothée Huré – French Tresury, Pierre Person – MP
19h15 – Avenues for improvement – Adan
19:30 – Benchmarking with other EU countries – Florian Glatz – Bundesblock, Marina Markezic – Blockchain Think Tank Slovenia
19h45 – Conclusion – Adan
19h50 – Q&A
 Date and time: Tuesday, December 8th at 6 pm CET (17:00 UTC)
---
"Why should the euro zone can't miss the second internet revolution?"
We are delighted to speak this Monday, December 7th, 5pm CET, at an event hosted by Fondation Concorde, Havas Blockchain, Bpifrance: "The Blockchain an opportunity for Europe, why the Eurozone must not miss its second internet revolution."
In particular, we will discuss the strategic challenges of the digital euro for the competitiveness of France and Europe
➡️ Free registration (Monday, December 7 from 4:30 pm CET – 15:30 UTC)
---
Digital Assets: One year of the VASP regime
In this event hosted by LexisNexis, Dominique Legeais, Professor at the University of Paris and co-director of the Revue de droit bancaire et financier, William O'Rorke, lawyer, ORWL Avocats and Simon Polrot, President of Adan will discuss the VASP (PSAN) legal regime which is celebrating its first year.
➡️ Free registration (Thursday, December 10 from 12:30 pm CET – 11:30 UTC)
---
Report: Relationship between the financial and banking industry and the crypto sector
On November 12, Adan organised a webinar to present the results of its survey on the relationship between the banking and financial sector and the crypto-blockchain industry.
During this online conference, which attracted some fifty industry professionals, Simon Polrot, President of Adan, and Faustine Fleuret, Director of Strategy and Institutional Relations of the Association, summarised the main findings of this survey. Adan also received Quentin de Beauchesne, co-founder of Ownest and President of AssoCryptoFR. He presented the survey carried out in 2019, which reports on the relations between cryptocurrency users in France and their banks.
➡️ Report and video of the webinar
---
Member News
Arianee : ba&sh launches its resale program facilitated by Arianee digital identities.
Ark ecosystem : $ARK can be used as a payment method for more than 3 million trips available on Travala.com. Until the end of 2020, receive 10% cashback if you pay in $ARK! Learn more
BitLogiK : BitLogiK launches national market research on cloud and enterprise data security. Participation takes 2 minutes, and you will receive the results of the survey and/or a practical guide on security. Learn more
Bitsa : Introducing payment top-ups and payment by Lightning network, Visa card compatible with Apple Pay and Google Pay.
Blockchain Partner : We are recruiting a Blockchain/Crypto Analyst/Consultant trainee as well as a full-stack engineer! Find our job offers on Welcome To The Jungle. Learn more
Chainalysis : Chainalysis raises $100 million in Series C for a valuation of over a billion dollars to globally expand our regulatory platform for the booming crypto-money market. Learn more
Coinhouse : Coinhouse now offers a custodied management product for Bitcoin: Bitcoin Active Strategy. This algorithmic trading product aims to outperform Bitcoin and to facilitate access to crypto-assets: the 24/7 active management allows us to drastically reduce risks in bear markets and to relieve our clients of the burden of regularly monitoring the markets and managing their assets. Learn more
Coqonut : The 2020 Tax Report is now available to start assessing 2020 capital gains and simulating taxes. Learn more
Equisafe : Launch of Equisafe V2 (new features and UX/UI) and Freemium in December: free digitisation for companies with less than 3 shareholders.
Feel Mining : Feel Mining offers a novelty: The investment packages, resulting from a constant analysis of returns and based on the performance of our best investors, they correspond to 3 investment strategies. Learn more
Just Mining : Just Mining was in the spotlight on CNews. Learn more
Kaiko : Collaboration between Kaiko and Shrimpy: why market data is crucial to back-test trading strategies? Learn more
Kriptown : Kriptown launches a new operation in partnership with Eurecab: pay the drivers and give them in stake in the company. An incentive enabled thanks to a token issue on the platform. Each driver will be able to receive tokens from the company and thus share the value of the company and benefit from its growth. Learn more
Nomadic Labs : After Delphi, the latest Tezos "Edo" protocol upgrade proposal has just been announced! Edo will have two major new features: Sapling and Tickets. Learn more
Request Network : Invoice in FIAT and/or CRYPTO with REQUEST. Learn more
Scorechain : Scorechain launches Scorechain Entity Directory: more than 700 VASPs decrypted in their KYC, AML and security procedures to assess their credibility and perform enhanced controls. An essential tool when implementing a risk-based approach to counter parties managing active crypto. Learn more
SheeldMarket : Our CEO Oliver Yates talks about institutional crypto-trading in Europe on the Coinscrum Markets podcast. Learn more
Smart-Chain : Smart-Chain launches SmartNode, a staking service provider. Its goal: to participate in the development of Proof-of-Stake blockchains and to offer to the holders of crypto-currency simple and secure staking solutions on high-potential blockchains. Learn more
---
New Members
Welcome to our 6 new members!
Complementary Publications