Adan publishes its 2021 annual activity report Download!
01 Jul 2021 - Crypto-assets - France - Industry Issues - Newsletter
Newsletter – July 2021
Every year, like a well-worn refrain, things accelerate before the summer. Adan and the crypto-asset sector are no exception to the rule.
For the Association, the month of June is punctuated by our Crypto Finance Forum organisation on 19 July, and for once in 2021: for real! We are delighted to note the interest that this event is arousing, both among the participants who have already registered en masse (note that places are limited), the many speakers who have been asked to attend, and the partners without whom we would not be able to realise our ambitions for this rich day: Ledger, Paraswap, KPMG, Kaiko, Coinhouse, iExec and Scorechain. These ambitions? To bring together public players, traditional industries and the drivers of the digital transformation of finance which the French crypto-asset industry abounds in. To decipher this sector, the concrete opportunities it presents and the challenges it faces. To define, through the conjunction of private and public forces, the strategy and action plan necessary for France and the European Union to position themselves and possible in the race already started by the major geographical areas. So, if you are not lucky enough to be on holiday on 19 July, take the opportunity to attend our Forum. We will be delighted to meet you, after these long months, for a cocktail at the end of the day.
June has been full of great news for the industry, from France to El Salvador, where bitcoin will become legal tender in September. Some significant fundraising events attest to the sector's dynamism (congratulations to Blockpulse, Ledger, Kaiko, Chainalysis, Sorare). Extremely positive political signs, such as the amendment proposed by Senator Eric Woerth concerning taxation. The Banque de France, which is carrying out a series of experiments. And elsewhere, financial institutions continue to enter the dance, such as Citigroup, which is opening its "crypto" division, or Standard Chartered, which is going to launch its exchange platform. When will it be the turn of the French institutions?
Before your well-deserved holiday, don't forget to check out our latest news (and those of our members) and our work below, and to say hello to our new June member: Veracash. We hope to see many of you at our Crypto Finance Forum, or at the EthCC where Adan will be speaking on Tuesday (20) morning.
A great month of July to all,
Faustine
Event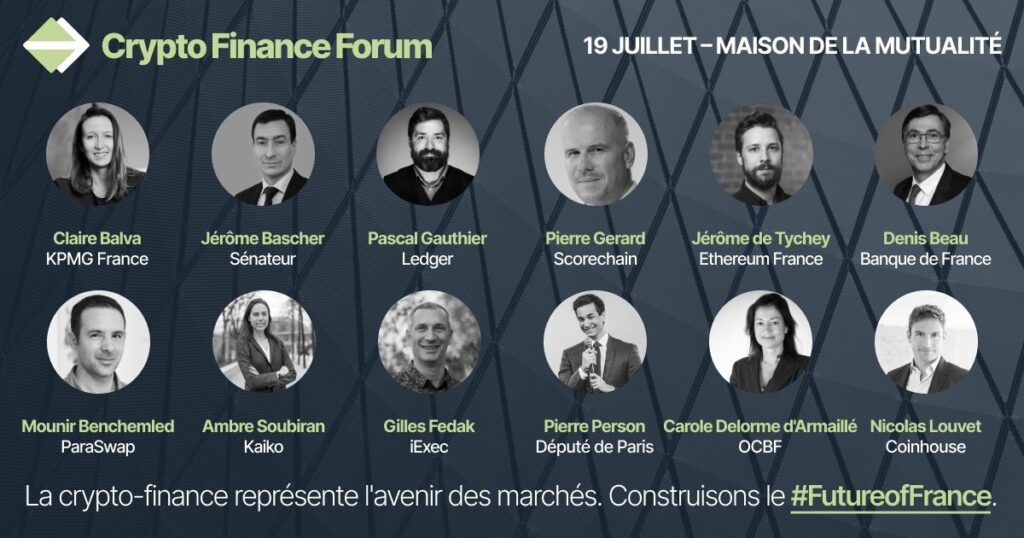 Crypto finance is the future of markets. Let's build the #FutureofFrance
Adan is organising the Crypto Finance Forum 2021 on 19 July, on the sidelines of the EthCC, at the Maison de la Mutualité to explore crypto-finance, understand its applications and the challenges this sector presents for Europe. What trends, uses and opportunities do crypto-assets present for institutions? Renowned multidisciplinary speakers will highlight the ambitions, challenges, and imperatives to establish France as a leading territory in digital finance.
Publications
Adan conference "The French digital assets sector in 2020"
On 2 June, Adan organised a web conference on the French digital assets sector in 2020. This event presented and analysed the findings of our latest survey report outlining the state of play and development prospects of the domestic cryptoasset industry. ➡️ Watch the replay
Taxation report of digital assets – Proposals for improvement 2021
On 12 June, Adan published a report on the taxation of digital assets and proposed several areas of improvement to the current regime: the need to respond to the challenges created by new uses, the financing of the real economy and the refinement of the 2019 regime regarding individuals are the three main changes supported in this report. ➡️ Read the report
Work
The month of June saw an increase in the number of institutional works and meetings, including:
[ACPR] Meeting with the Deputy Secretary-General and finalisation of the first version of our practical AML/CFT guide for DASPs
[ANC] Meeting with the Director-General and setting up of joint work
[HCJP] Participation in the new marketplace group Nominativity of digitised securities
[Paris EUROPLACE] Participation in the meetings of the Digital Finance Forum
[Parliament] Meeting with Mr Charles de Courson, Mr Jean-François Bellamy and Mrs Frédérique Dumas
[Secrétariat d'Etat chargé du Numérique] Meeting with Ms Carole Vachet
[Senate] Hearing by Mr Eric Woerth and meeting with Mr Jérôme Bascher
European focus
The month of June allowed us to make progress on many cross-cutting issues and to carry out various actions at the European level:
[Digital Euro] Drafting of our Adan position paper on the Digital Euro
[AML-CFT] Oral blanc with the Directorate General of the Treasury and the ACPR in preparation of our meeting with the Financial Action Task Force (FATF)
[MiCA / Pilot regim] Analysis of the amendments tabled in the European Parliament and the Council of the European Union
[French Presidency of the European Union] Meeting with the economic policy advisor of the Secretary of State for European Affairs Clément Beaune
Speaking opportunities
During June, Adan took part in several events:
Conference "The French digital assets sector in 2020" organised by Adan on 2 June 2021 ➡️ Watch the replay
Conference "Crypto-assets Seminar Panel II: What will become a standard? "organised by the New York branch of the Banque de France on 15 June 2021 ➡️ Watch the replay
Release of the episode "Crypto and blockchain regulation; where are we in Europe? "of the Cryptoast podcast on 13 June 2021 ➡️ Watch the replay
Blockchain technology and Education" conference organised by the Collège de Paris and Ascencia Business School on 25 June 2021
News from members
Arianee: Partnership with Paris Fashion Week to offer new digital experiences related to NFTs. The first experiment during Menswear Week saw participants receive an original piece of art by illustrator Richard Haines. Read more
Ark ecosystem: Marketsquare, the new ark project, polkadot list. Read more
Blockchain EZ: Alain Broustail is very pleased to contribute to the efforts to popularise blockchains and cryptoassets for the general public, with the release of his book "Bien utiliser la technologie Blockchain en entreprise" published by De Boeck Supérieur. Read more
Blockchain Partner by KPMG: We have released our understanding, neophyte-friendly study to understand the phenomenon of cryptoassets, cryptocurrencies, DeFi and Web3. Read more
Blockpulse: Blockpulse has just completed its €1 million fundraising to make share ownership programmable through tokenization. Read more
Chainalysis: Chainalysis raised $100 million for the third time in seven months from investors led by Coatue, valuing the company at $4.2 billion. Read more
Flowdesk: Flowdesk is registered as a DASP for the services of keeping digital assets, buying/selling digital assets for legal tender, exchanging digital assets for other digital assets. Read more
Just Mining: Just Mining is granted DASP registration (E2021-16). Read more
Nomadic Labs: Electis, a Paris-based non-profit organisation, has successfully launched and officially released its open-source electronic voting solution on Tezos. Read more
Ownest: Ownest's teams contributed to the writing of the white paper Blockchains x Supply Chain by Wavestone and France Supply Chain. The paper discusses our blockchains-nft traceability use case for SNCF Réseau. Read more
Request: Euro invoices payable in Crypto: Request partners with Chainlink to democratise Crypto payments for businesses Read more
Scorechain: Scorechain was awarded the APSI (Association des Professionnels de la Société de l'Information) Startup Award 2021 during the Golen-I virtual evening co-organised by IT Nation. This award aims to reward dynamic Luxembourg companies that participate in the economic development of the Grand Duchy. Read more
SheeldMarket: First French platform to obtain DASP registration for trading digital assets (service 4).
Smart-Chain: Smart-Chain supported Smartlink in its private and public token sales. The Tezos-powered platform managed to raise a total of $3 million. Its softcap of $500,000 was reached in less than 2 minutes during the pre-sale and its hardcap in the 48 hours following the launch. Read more
Waltio: New Free White Paper Waltio x ORWL Attorneys at Law – "Understanding the taxation of new digital asset income". Read more
Woorton: Woorton, France's leading market maker, is co-investing in Tesseract's $25M Series A alongside Coinbase, Blackfin, Augmentum and other high-profile investors. Based in Finland, Tesseract is one of Europe's leading institutional cryptoasset lenders. Read more
New members
Since the beginning of June, we have welcomed a new member, welcome to him!
VeraCash: an online account backed by precious metals, stored in a secure safe, usable at any time thanks to the Mastercard, free of charge and without commissions.
Complementary Publications