09 May 2022 - Actifs numériques - Enjeux pour l'industrie - Newsletter
May 2022 Newsletter
Dear all,
Le 6 mai 2021, les membres de l'Adan m'ont élue Présidente de l'Association, pour ma plus grande joie et fierté. 
Aujourd'hui, le 6 mai 2022, je souffle ma première bougie et fais le bilan de cette première année. Première édition du Crypto Finance Forum (19 juillet 2021), premiers amendements adoptés pour la fiscalité des crypto-actifs au Projet de Loi de Finance, premier manifeste à l'attention des candidats à la Présidentielle portée par une association "crypto", première rencontre entre le secteur et le Secrétaire d'Etat chargé du Numérique et des Télécommunications, première étude sur l'industrie française (La crypto en France : structuration du secteur et adoption par le grand public) grâce à KPMG et nos 8 sponsors, restituée à Bercy, et même première matinale sur BFM Business… Des accomplissements dont nous pouvons collectivement être fiers, car ils illustrent parfaitement la structuration continue et la montée en puissance d'une industrie dont la dynamique et l'énergie incroyables ne cessent de nous émerveiller, nous motiver. 
Pour autant, cette première année n'a pas été un long fleuve tranquille. Les remparts au développement du secteur sont loin d'être tous levés. Les débats réglementaires en Europe nous donnent des sueurs froides (quelques nouvelles ci-dessous). La pédagogie est encore et plus que jamais nécessaire, à tous les niveaux (public et privé). Le mouvement anti-crypto est un créneau politique à la mode, auquel il faut apporter une attention mesurée. L'union du secteur n'est pas parfaite. 
Tant pis, car cette année encore, l'Adan porte de grandes ambitions : nouvelle édition – encore plus énorme ! – de notre Crypto Finance Forum (dévoilée dans cette newsletter), premier "tour de France" de l'écosystème et des élus de nos territoires, implantation à Bruxelles… Et dix collaborateurs en plus dans nos rêves les plus fous  ! 
Alors, un an après : merci encore aux membres qui m'ont confié les rênes de l'Association pour votre confiance, merci à ceux – nombreux – qui nous ont rejoint depuis, merci tous les jours à cette équipe exceptionnelle sans laquelle l'Adan ne serait pas l'Adan (dans l'ordre d'apparition au générique : Jules, Hugo, Mélodie, Benoît), et merci à tous pour votre soutien fidèle et précieux. 
See you next year?
Faustine   
Advertisement
Crypto Finance Forum 2022 – Ticketing opened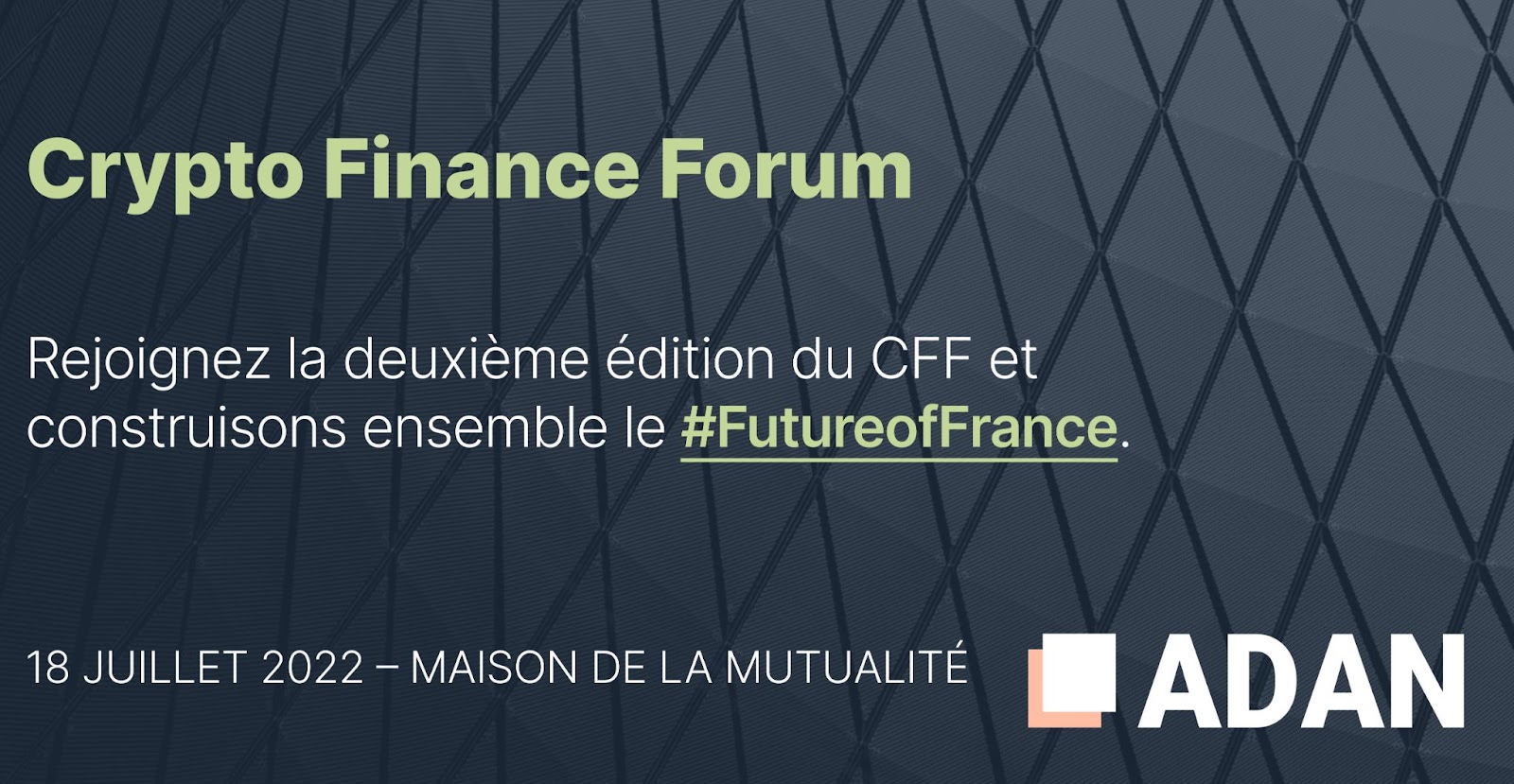 Publications 
Trilogue MiCA et ambitions européennes : dernière chance pour notre souveraineté numérique
In the final stretch towards the finalization of the Markets in crypto-assets (MiCA) regulation, Adan alarms stakeholders in the ongoing debates about some undesirable prospects for the crypto-asset industry. Inapplicable framing to decentralized finance, inappropriate capture of use cases carried by non-fungible tokens (NFT), confiscation of stablecoins to new players, lack of proportionality and incomprehensible measures from the point of view of the competitiveness of European digital asset service providers… The pitfalls are multiple and serious.
Pourtant, le trilogue s'accélère au détriment de la compréhension des impacts pour le secteur et des enjeux pour l'Union européen : la marge de manœuvre se réduit afin de retrouver l'équilibre nécessaire entre protection des investisseurs et développement de l'innovation. 
Consult the position
NB: This political position is accompanied by a technical analysis and concrete alternative proposals, not made public by Adan at this stage. The Association is available for discussion.
Trilogue TFR Recast : une lutte efficace contre la criminalité financière exige de préserver l'innovation
A la suite du premier trilogue politique sur la révision du règlement Transferts de Fonds (TFR), l'Adan continue d'alerter les institutions européennes sur la nécessité de mettre en place une réglementation adaptée et proportionnée, respectant le juste équilibre – souvent complexe à atteindre – entre la lutte contre le blanchiment de capitaux et le financement du terrorisme (LCB-FT) et la protection de la compétitivité de l'industrie européenne des crypto-actifs.
The harmonization of the AML/CFT framework at the European level is a necessity and good news for the French PSAN profession. However, in order to achieve its objectives in terms of financial security and confidence in the crypto-asset markets, TFR must imperatively bring the industry on board with it. However, some inappropriate or even excessive measures – for example, the extension of the scope to transactions involving an unhosted wallet, or the obligation for players to report to the competent authority any transaction over €1,000 involving an unhosted wallet – threaten both the competitiveness of European companies and the objectives sought.
Consult the position
NB: This political position is accompanied by a technical analysis and concrete alternative proposals, not made public by Adan at this stage. The Association is available for discussion.
European Regulation from the Crypto Sector Perspective [Adan x Cryptoast] – Episode 1 The DeFi
In partnership with the media outlet Cryptoast, Adan launches "European Regulation as Seen by the Crypto Sector", a series of 7 videos that give voice to companies impacted by the upcoming MiCA and TFR regulations, and share recommendations for re-establishing appropriate and proportionate rules.
Click here for the 1st video on the treatment of decentralized finance (DeFi) in MiCA (with English subtitles)
Don't miss the next ones! NFT, stablecoins, PSAN, unhosted wallets… All topics will be covered!
Work
While the debates on MiCA and TFR – recently entered into trilogues – are accelerating between the different European institutions, Adan continues to actively and urgently bring the voice of its members to contribute to the adaptation of the construction of the European framework.
The first political trialogue on the MiCA regulation was held at the end of April. The Association continues to make proposals on the text in order to obtain improvements in the final text. Many grey areas remain on the treatment of DeFi, the inclusion of NFTs, the regime of stablecoins and the framework applicable to CASPs (crypto-asset service providers), Adan works daily to ensure that the Regulation is strictly limited to the supervision of centralized players, without the latter being subject to obligations that they would not be able to respect.
What's next? A next political trialogue will be held in May. Until then, Adan is sharing its recommendations with the various stakeholders in the ongoing discussions.
Regarding the revision of the Transfer of Funds Regulations 2015 (TFR), following the first political trialogue held on 28 April and the first technical trialogue held on 3 May, it would appear that the removal of the €1,000 exemption for the application of the Travel Rule (i.e. the exchange of information on transactions and their counterparties) has already been agreed. While some countries have much higher thresholds and the FATF, in its recommendations, proposes that member states implement a €1,000 threshold, European players will probably be the only ones to apply it. But all is not yet lost! The Association does not intend to give up in this last straight line so that certain obligations – e.g. the extension of the scope and the obligation to verify the authenticity of the information collected when the transfer involves an unhosted wallet (i.e. a wallet held directly by a person), the obligation to report to the authorities transfers above €1,000 and involving unhosted, the list of non-compliant providers which in its current state and if interpreted broadly could have an unintended and negative impact on DeFi in Europe, etc. – are corrected. – be corrected.
What's next? The next technical trialogues will be held in May. In the meantime, Adan will share its recommendations with its various stakeholders in the same way as MiCA.
Once again, Adan strongly condemns inappropriate behavior on social networks that – rather than helping the industry – hinders it in large-scale fights for its development.
Regarding the pilot scheme for DLT market infrastructures, it should be noted that Member States have approved the final agreement of the trialogue, paving the way for its upcoming publication in the Official Journal of the EU (OJEU). This approval follows the approval of the final agreement by the European Parliament plenary in March.
If the European news is hot, the French subjects are not left behind:
While President Emmanuel Macron was re-elected on April 24, his unpublished interview granted to The Big Whale in which he expresses the urgency and importance that "France and Europe be leaders of the future generations of the web" suggests the implementation of a dedicated national strategy, a proposal carried by Adan throughout the campaign through its manifesto.
While European regulations are being developed, the French PSAN regime still needs to be clarified on certain points. Thus, the Association is being consulted for a forthcoming modification of the AMF position paper (DOC 2020-07).
The Adan PSAN Committee has reappointed Nicolas Louvet, CEO of Coinhouse and Coinhouse Custody Services, as Chairman of the Committee. Mark Kepeneghian, CEO of Kriptown, was elected Vice President. Congratulations to both of you, and thank you for your commitment!
Adan participated in the launch of the fifth class of start-ups incubated at Swave, congratulations to them! Nice entry of three crypto players: Aleno, Ambrosia and Tilvest.
We are pleased with our new partnership with the French Association of Securities Professionals (AFTI) as part of a cross-membership, allowing us to formalize a long-standing close relationship on regulatory issues and for the development of crypto use cases in the financial world. Many thanks to Stéphanie Saint Pé (General Delegate and Secretary of the Board) and Pierre Jond (President) for this new mark of confidence in the vision we carry.
Adan was at the Paris Blockchain Week Summit.
Interventions
Faustine's speech at the AGEFI Institutional Investors Forum at the Pavillon Dauphine (April 14)
ITW of Faustine on BFM Business live from the PBWS to expose the stakes of the current European debates (April 14)
ITW of Faustine on BSmart to present the expectations of the French crypto sector (April 20)
Participation of Mélodie to the round table "Web3 : New eldorado or back to the origins of the web ?" at H7 in Lyon (April 21)
Participation to the Webinar "NFTs, an unidentified legal object?" organized by Assas Legal Innovation (April 21)
ITW of Faustine for BFM Crypto in reaction to the interview of the deputy Aurore Lalucq (April 25)
ITW of Faustine on BSmart to talk about European regulation issues, with Pierre Person (April 26)
Intervention at the Time To Decrypt' conference on the "Regulation" round table (April 26)
ITW of Faustine on Grand Angle Crypto to review the European regulatory debates and Adan's actions (May 1st)
New members
In April, we welcomed 12 new members, welcome to them!
Aave Holdings Limited  : Développement de logiciels sur  blockchain.
ALPHA-7: To offer individuals and professionals a profitable, secure and non-binding savings product through decentralized finance.
Atlendis Labs: Decentralized lending protocol that enables non-collateralized lending. Institutional borrowers can obtain flexible and competitive lending terms. Lenders earn high returns on actively lent capital and have granular control over their investment portfolios.
Avicenne Agency: Development of custom Blockchain and web solutions for clients. Smart contracts, tokenization, DeFi etc..
Caredda concept: Company promoting French and international contemporary art in the real and digital world.
DFi Labs : Quantitative investment manager in digital assets based in Paris.
Interop Ventures: Interop is a venture capital fund supporting teams building applications and protocols in the Interchain economy, known as the Cosmos Network.
JSECapital : Advice and support for professionals and individuals to start, progress or specialize in digital assets and blockchain.
MAINBOT SAS: French EdTech & IoT startup created in 2017, with a mission to develop The WinkyVerse: a global metaverse of educational games where families around the world will be able to learn, create, play and connect together.
Market Pay : Omnichannel payment solution for merchants and retailers in France and Europe. The company is a payment institution, electronic money institution and PISP.
Morpho Labs SAS: Decentralized finance protocol that interfaces with underlying liquidity pools (Aave, Compound) and offers to match users in a peer-to-peer fashion. This improves interest rates, while keeping the same liquidity and market risks of the underlying protocols.
Nomiks: Web3 consulting company specialized in building tokenomics with a P2E focus. The team also has 3 decentralized investment funds.
Members' news
Atlendis Labs: Founded by ConsenSys alumni, Atlendis Labs develops a crypto lending protocol for enterprises. We are proud to join ADAN! More about Atlendis Labs
Banque Delubac & Cie: The banking institution becomes the first French bank to obtain a PSAN registration for the launch of an offer to buy, sell and keep digital assets in BtoC and BtoB. To know more about it BitLogik: Development of an application to manage dapps authorizations on its tokens. DappsProtect allows you to protect your crypto-assets and to take control of the security of your web3 wallet. More about DappsProtect Bitstack: The startup presents its new visual identity in a new website and a new app! Read more about Bitstack GOAT : They talk about Goat ! Read the latest article on CoinTribune. Read more iExec: The company has launched a Web3 support program in partnership with H7 (emblematic place of the French Tech in Lyon). The objective: to accompany the companies of the Auvergne-Rhône-Alpes region in the appropriation of the stakes related to Web3. Their aim is to help them take full advantage of the opportunities offered by blockchain and decentralization through conferences, workshops and an incubation program. Kaiko: The leader in market data for financial institutions announces the acquisition of Kesitys, a provider of quantitative tools for risk optimization in the crypto-currency markets. Read more Kryll: Release of the new Kryll.io application, Kryll.io's presence at the Paris Blockchain Week Summit and Token KRL now available on Crypto.com. More about Kryll.io L.CO : Marion Perresse Brilleaud from L.co will be moderating the round table "ICO, VC and investment funds or how to raise funds in crypto-currencies" alongside Arthur Bard, Ivan de Lastours, Yves Choueifaty, Elodie de Marchi & Marjorie Vigne at the Cryptoday June 1, 2022 at STATION F. More information Mon Livret C: The company is officially PSAN! The company will officially launch its savings product on the market in the coming weeks. Read more Nomadic Labs : Aleph.im announces an integration of Tezos. Read more Nomiks : The team recruits a blockchain architect (Tokenomics) and a project manager. ORWL Avocats: Last week was the final of the first edition of the Unchain the Law competition. The finalists enlightened and entertained on the topic: NFT/JPG, what's the difference? Dimitri Parvan was declared winner by a jury composed of Sébastien Borget (The Sandbox), Gabrielle Dorais (Sorare), Pierre Person (Deputy of Paris), William O'Rorke and Alexandre Lourimi (ORWL Avocats). Their presentations will be posted online soon. Read more Ownest: Quentin de Beauchesnes, Head of Blockchain participated at the end of April in a H7 x iExec conference dedicated to Web3, along with other blockchain experts, NFT and metaverse. The opportunity to come back on the myths and realities of this new value-creating web thanks to the replay! To know more about it Retreeb : The startup announces its partnership with Treezor to strengthen its ethical and solidarity payment solution. Read more about Retreeb Scorechain : Read Scorechain's contribution to the latest PwC France study "Blockchain & crypto: how companies are finally benefiting". In it, their CEO discusses the role that regulatory compliance plays in the adoption of crypto-assets. Read more Synaps: The crypto enterprise KYC provider launches Anima, the new KYC-compliant decentralized identity protocol. Read more Véronique Rondeau-Abouly: Obtained "Blockchain consultant" certification in March 2022, (defense project: turning a local currency into a cryptocurrency) and "Decentralized Finance-DeFi" in April 2022 (pair defense project: a Crypto-Kids" application for children). Read more Waltio: The Waltio x ORWL Avocats 2022 edition white paper available. On the agenda: taxation of NFTs, Play2Earn and registration of conversions and crowdloans. Read more We fundia & Re fundia: The company facilitates the financing of sustainable agriculture by coupling tokenized green bonds (Security Tokens) with carbon credits (NFTs): discover our guidelines "Green financing & carbon credits: two sides of the same token. Read more
Complementary Publications